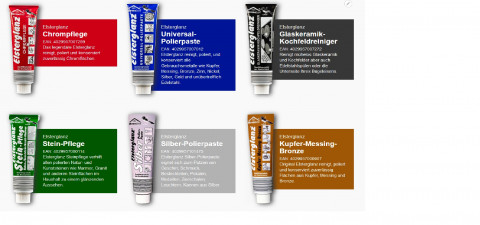 Where can you actually buy Elsterglanz Ahrenshof products? How can you purchase the different types of Ahrenshof's Elsterglanz polishing paste? These include universal polishing paste, chrome care, glass ceramic cooktop, cleaner, plastic power cleaner and stone care. The various Ahrenshof Elsterglanz products are offered by discounters and in drugstores. So e.g. currently at Aldi-Süd. Another important source of supply for the Ahrenshof product range are various online shops.
Many retailers offer the Elsterglanz universal polishing paste directly through Amazon and eBay. The large online marketplaces Amazon and eBay have a special position.
The search engines Google, Bing and others are very helpful when searching for the Elsterglanz products from Ahrenshof.
The website www.auspreiser.de provides direct links to the online shops that sell the products universal polishing paste, chrome care, glass ceramic hob cleaner, plastic power cleaner and stone care.
Elsterglanz Universal polishing paste - test reports
There is a large number of test reports on the excellent properties of Ahrenshof products from Saxony on the Internet.

The Elsterglanz product range is particularly important. The classic from the GDR has a large fan base, which continues to grow all over Germany.

The universal polishing paste is very well suited for cleaning, polishing and preserving consumables made of bronze, gold, copper, brass, nickel, silver, tin. And especially for stainless steel items. The universal polishing paste is acid-free, does not etch, is gentle on the material and is kind to the skin. Please also note the instructions for use.

The other cleaning and care products from Ahrenshof are intended for a wide variety of applications.

A look at the instructions for use helps to find the right cleaning and care product for the planned application and to use it correctly.

We are happy to assist you with any questions about our products. Send us your request via contact or by email. We will process your inquiries promptly and answer them.