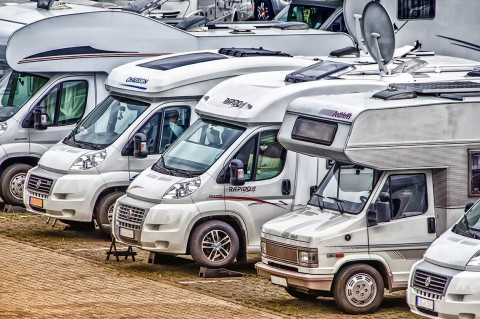 Caravanning, traveling in a mobile home, is all the rage. More and more people are becoming enthusiastic followers. This is evidenced by the steadily increasing number of registrations of caravans and motorhomes. Traveling with a caravan or mobile home means, above all, traveling at your own pace. But a caravan or mobile home must also be cleaned and cleaned regularly. The karipol caravaning all-purpose cleaner caravan and mobile home, the acrylic pane cleaner mobile home and caravan and mobile home and the fresh water tank cleaner caravan and mobile home are ideally suited for cleaning and caring for caravans and mobile homes and deliver outstanding results when cleaning and maintaining caravan, mobile homes and mobile homes.
Caravaning - cleaning and maintaining caravan and mobile homes
For many, this type of individual travel has something to do with freedom. You can react spontaneously to events and take a lot of time. Time also takes on a different meaning. A completely different one, as usual in hectic professional life. Traveling in a mobile home or caravan is a cheaper alternative to vacationing in a hotel or holiday home. In the hotel, the costs are usually significantly higher. There are special campsites for caravans and motorhomes. These are located away from the cities, mostly in idyllic surroundings.
So on the beaches of the Baltic Sea, the North Sea, on lakes, in the mountains, in the forests and many other beautiful places at home and abroad. So every trip with the motorhome becomes a dream vacation. The equipment of caravans and motorhomes is becoming more and more comfortable. Running water, a toilet, shower and refrigerator come as standard. The equipment in the motorhome can be further supplemented by an awning, awnings and much more. And with the karipol caravan and motorhome cleaning agents, complete cleaning and care of the caravan and motorhome is guaranteed. With regular care of the caravan, you can enjoy your motorhome / motorhome for a long time.
karipol Caravaning - all-purpose cleaner for motorhomes and caravans
Before the trip, the motorhome is brought into shape with the karipol Caravaning All-Purpose Cleaner Caravan. Everything is thoroughly cleaned and cleaned again. Even during your vacation, you regularly ensure order and cleanliness as well as care on and in the caravan and motor home.
The karipol all-purpose caravan cleaner from Ahrenshof is particularly suitable for gently cleaning and tending to damp-wipeable and smooth outer walls of caravans and motorhomes, as well as worktops, tiles and indoor sanitary cabins. The result will convince you.
karipol Caravaning - Awning Cleaner Caravan and Motorhome
The karipol Caravaning Awning Cleaner Caravan is intended for basic cleaning and care of awnings. With the awning cleaner motorhome, you can remove dirt and bird droppings from awnings in a manner that is gentle on materials and colors. The karipol Caravaning Awning Cleaner Motorhome is also very suitable for boat sails and delivers outstanding results.
karipol Caravaning - Acrylic pane cleaner for caravans and caravans
Acrylic panes have special properties. When caring for the acrylic panes, there are a few things to consider. Acrylic panes insulate well, are light and inexpensive. These are perfect conditions for use in motorhomes or caravans. Acrylic panes are also very sensitive to scratches. Particular attention must be paid to this when cleaning.
The karipol Caravaning Acrylic Window Cleaner Caravan meets all of these requirements for cleaning acrylic windows in caravans.
Instructions for using karipol Caravaning Acrylic Scheiber Cleaner for caravans and caravans
Simply spray the acrylic pane cleaner Caravan onto the panes and rub dry with a clean cloth. This is particularly useful after washing the car, especially to degrease the acrylic panes. The karipol Caravaning Motorhome Acrylic Window Cleaner is a German quality product from Ahrenshof. The acrylic pane cleaner caravan guarantees scratch-free cleaning and streak-free cleanliness with a brilliant shine on the acrylic panes of the caravan.
karipol Caravaning - Fresh water tank cleaner for caravans and mobile homes
The caravan's fresh water tank not only has to be clean, but also hygienically clean. This is where special soiling and impurities occur. The biofilm is probably the most common. This is a layer of slime that acts as a protective cover and breeding ground for microorganisms. This coating is very stubborn and difficult to remove.
Instructions for using karipol caravaning fresh water tank cleaner for mobile homes and caravans
The fresh water tank cleaner from karipol Caravaning mobile homes and caravans is ideally suited to kill germs, effectively remove limescale deposits and other contaminants from the fresh water tank and pipes.
The contents of the karipol Caravaning Fresh Water Tank Cleaner Motorhome bottle are poured into the empty fresh water tank and filled with water. All taps are opened for about 30 seconds. Now let the tank cleaner work for 8-10 hours. Then please open all taps for 2-3 minutes. Finally, the fresh water tank must be rinsed thoroughly.
If you have any questions about our karipol caravaning products for cleaning and maintaining caravans and motorhomes, Ahrenshof Elsterglanz and Elsterglanz polishing paste, please do not hesitate to contact us. Or give us a call.
Interesting too