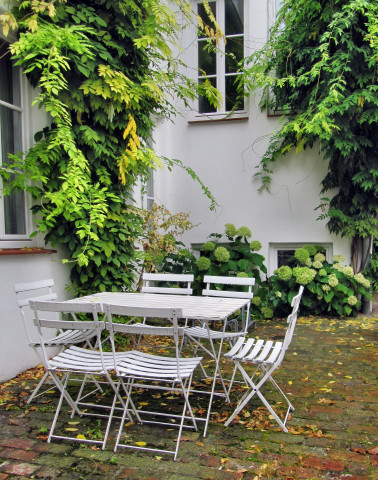 The garden furniture will be set up with the first sun lobe in spring. They then stand outdoors all summer and long into autumn. Their garden furniture is thus exposed to the sun, the wind and rain. And year after year. You take the time for intensive cleaning and are often disappointed by the result. So much time and work is invested and you don't see it at all. With the right and regular care with Elsterglanz plastic power cleaner, you protect the surfaces of your plastic furniture from the weather. Her leisure and garden furniture looks fresh and almost new again after the treatment. The usual signs of use are significantly reduced.
Elsterglanz

Plastic Force Dender by Ahrenshof-proven and popular
The surfactants contained in Elsterglanz plastic power purifiers thoroughly remove dirt and grease. The finest plaster bodies in the Elsterglanz plastic power cleaner polish out the yellowed spots on the plastic surfaces in a material manner.
The paraffin, which is included, also provides water-repellent preservation and protects your valuable garden furniture from repolluting.
Elsterglanz

Plastic power cleaner from Ahrenshof
Using Elsterglanz plastic power cleaner is easy. The power cleaner is applied to a damp sponge in case of light dirt. The surface to be cleaned is rubbed off. Then dry the treated surfaces with a cloth.
In the case of more poignant dirt, apply the Elsterglanz plastic power cleaner directly from the tube to the areas to be cleaned. Please leave for about 10 minutes and then rub off.
Please note the advice on application on the Tube Elsterglanz Plastic Force Retiner.
Elsterglanz

by Ahrenshof – A quality product from Germany
The Elsterglanz series with the plastic power cleaner from Ahrenshof GmbH in Saxony is a German quality brand product with a long tradition.
The power cleaner not only cleans, polishes and preserves camping and garden furniture. With Elsterglanz plastic power cleaner, you can also clean, polish and preserve window and door frames, roller gates and roller shutters.
The power cleaner is acid-free and absolutely material-friendly. The special ingredients have a water-repellent and preserving effect. The Elsterglanz power cleaner for plastics also ensures long-lasting protection against re-pollination.
We are happy to answer any questions you may have about our products. Just call us or email us at vertrieb@ahrenshof.de. Contact you can also reach us directly.